July 24
We woke up at 6:00am today to
catch
the ferry to Whittier. Again it was raining and cold. We waited at the terminal for all the other R.V.s to load then boarded the Aurora. T
he
boat ride was amazing. We saw
sea lions
, sea otters and a humpback whale.
Visibility was pretty good considering the weather so we did sea some glaciers and floating ice too.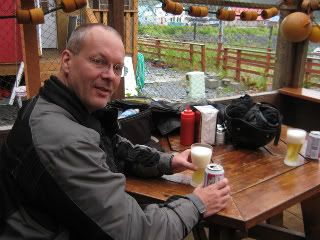 We decided to skip the
Kenai
peninsula because of the weather and headed into
Anchorage
. The zipper on
Ian's
jacket
had
broken the day before so we tried to find a shop to fix it. Eventually we found Alaska Leather and Val promised to fix it by noon the next day. As we were leaving to find a camp for the night she ran out with a loaner jacket for Ian to wear. What great service!
Eventually we found the Harley shop where they had free camping for motorcycles. We met a fellow there from Liverpool named Martin. He was on a 1 year trip around the world, his second such trip. A very interesting guy with some amazing stories. The three of us ended up at the pub and...well lets just say I had a headache the next morning.
July 25
After finding a
car wash
and then retrieving the jacket we set out of town.
Anchorage
is much like any other big city with lots of traffic. I couldn't wait to get out. The weather was hot (15 degrees) and sunny so we actually put away the rain gear. We rode north through Denali park but didn't camp because they were full. Denali surprised both of us, very busy touristy place. On we went to stop at a
campgound
south of Fairbanks in a town called
Nenana
. We set up our tents in the picnic shelter and stayed dry all night as the clouds again decided to rain on Alaska. Tomorrow some sightseeing in Fairbanks.
July 26
The ride to Fairbanks was a short 90km. We had some lunch and rode out to dredge #8 but decided not to go in to the park. Instead we rode back to Fairbanks on the Old
Steese
hwy which was really fun. From Fairbanks the rest of the trip is heading east which means the tour is more than half over but still lots to see and do. Tonight we camped at moon lake campground, a really nice secluded spot. This was the first night we got quite wet, my tent had a small puddle in it. No problem, we'll dry everything out tomorrow in Dawson City.
July 27
Here we sit in Chicken, Alaska on our way to Dawson City. An excellent day all around with a fantastic road to Chicken. From Chicken the pavement ends and it's gravel to the border. Fortunately the rain had stopped and there was no mud. As a bonus the road was still a little damp so the dust was not a big problem either. We arrived in Dawson City and found a room at The Bunkhouse. Dawson is a very interesting place with authentic original gold rush structures everywhere. We went to Klondike
Kates
for dinner then to Golden tooth Gertie's for some entertainment, a high energy variety show. From there we found the local night spot where a live funk band was playing. A positive place full of people from all over.
July 28
After sleeping in a bit we went for lunch and some sightseeing in Dawson City.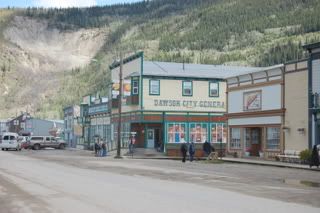 Eventually we had to say goodbye to Dawson and hit the road. The Klondike highway is a mixture of some gravel and chip seal pavement. About 130km from Dawson we had a close call. The rear tire on
Ian's
bike blew out while we were on a gravel stretch at about 90
kmh
. He managed to get it stopped safely in the right side ditch but we were in the middle of the Yukon with no spare! I hopped on my bike to see if I could find help. About 10km down the road I found a little place that used to be a RV campsite. The landowner and his helper (a lad from Vancouver who was prospecting for gold nearby) were able to follow me back to Ian and we loaded his bike into their pick up truck.
So here we sit in
McQuesten
, Yukon waiting for tomorrow to see if we can find a tire in Whitehorse. It's M
onday
now and getting a tire on Wednesday is a best case. Who knows what the next few days will bring.
July 29
This morning we contacted the Yamaha dealer in Whitehorse to ordered a tire and tube. The phone at Dan's place is a satellite phone and costs
alot
to use so we had to make the calls count. After confirming the tire we phoned a trucking company to arrange shipment.
Kluane
trucking runs between Whitehorse and Dawson every night. Drew was kind enough to agree to stopping in front of Dan's place as they passed through that night. We had the day to kill and we needed provisions so I saddled up to head into Stewart Crossing. Once there I found the restaurant closed so I went into Mayo, a 100km trip from Dan's. In Mayo I found groceries, beer, and a bank. A nice little town. I arrived back at
McQuesten
about 4:00pm to find Ian reading a stack of old Yukon magazines and history books. I started to read them too and have become fascinated with Yukon Gold Rush history.
We built a fire and waited for the
Kluane
truck to come by. Sure enough at 12:30 we heard a truck gearing down and blast from his horn. The next morning Dan helped us install it, and we got the bike back together by 11:00. Of course it started to rain and our tents got put away soaking wet. Finally we said farewell to Dan and hit the road in the rain....again.
Today we rode 580km and are spending the night in Dawson Peaks.