Sunday July 20th, 2008.
The opportunities for posting to the blog have been few so I'll try and give an update of the last couple of days.
Since Prince George we have been riding in steady rain. The Temperatures have been cold but we have proper gear to brave the elements.
We started out on Saturdy from Purden lake about 10:00am and had a good breakfast in Prince George. The rain slowed us down and we got as far as Seely Lake provincial campground where we found a great spot for the tents under some trees. Even though it rained during the night we stayed dry.
Sunday morning a stop in Kitwanga for breakfast before heading north on the Cassiar highway.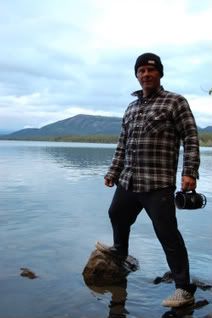 While we were there we met a fellow from Mississippi who was on his way to Prudoe Bay, from there he was headed to Key West Florida to do an Ironbutt feat.
We rode into Stewart and Hyder Alaska. A nice ride with the Bear Glacier on the way in.
This was probably the coldest part of the day but worth the trip for sure.
HYDER, AK
Back on the Cassiar we saw more bears than we could keep track of including one dead guy.
The highway has been much better than I expected with a few frost heaves and the odd rough spot. Tonight we are in Kinaskin prov park.
Margaret..our saviour
A fantastic spot and only a sprinkle of rain. We are watching the trout jump as the sun is going down ending another memorable day.
July 21
A long day today, quite cold and windy. We got away from the campground at about 11:00am and finished off at Teslin Yukon. We encountered a 30km stretch of gravel/mud that was really slippery and made a mess of the bikes.
The variety of road conditions made it a fun ride today but slow going as we found many gravel sections and some construction stops.
Once in the Yukon the wind was fierce and our fuel economy went way down. Ian had to go on reserve at 205km (80km earlier than normal).
We met a fellow from Austin Texas riding solo to Alaska, I didn't catch his name but he was riding a big Shadow loaded for a long haul.
Teslin is our stop tonight, at the Yukon Motel. We are now only behind schedule by about 200km. Tommorow we go through Whitehorse and spend the night in Alaska.